Wallabies Defeat Springboks
Yes, that's in the headline, THE WALLABIES WIN".
It was a little bit of a messy affair with the Wallabies and Springboks falling over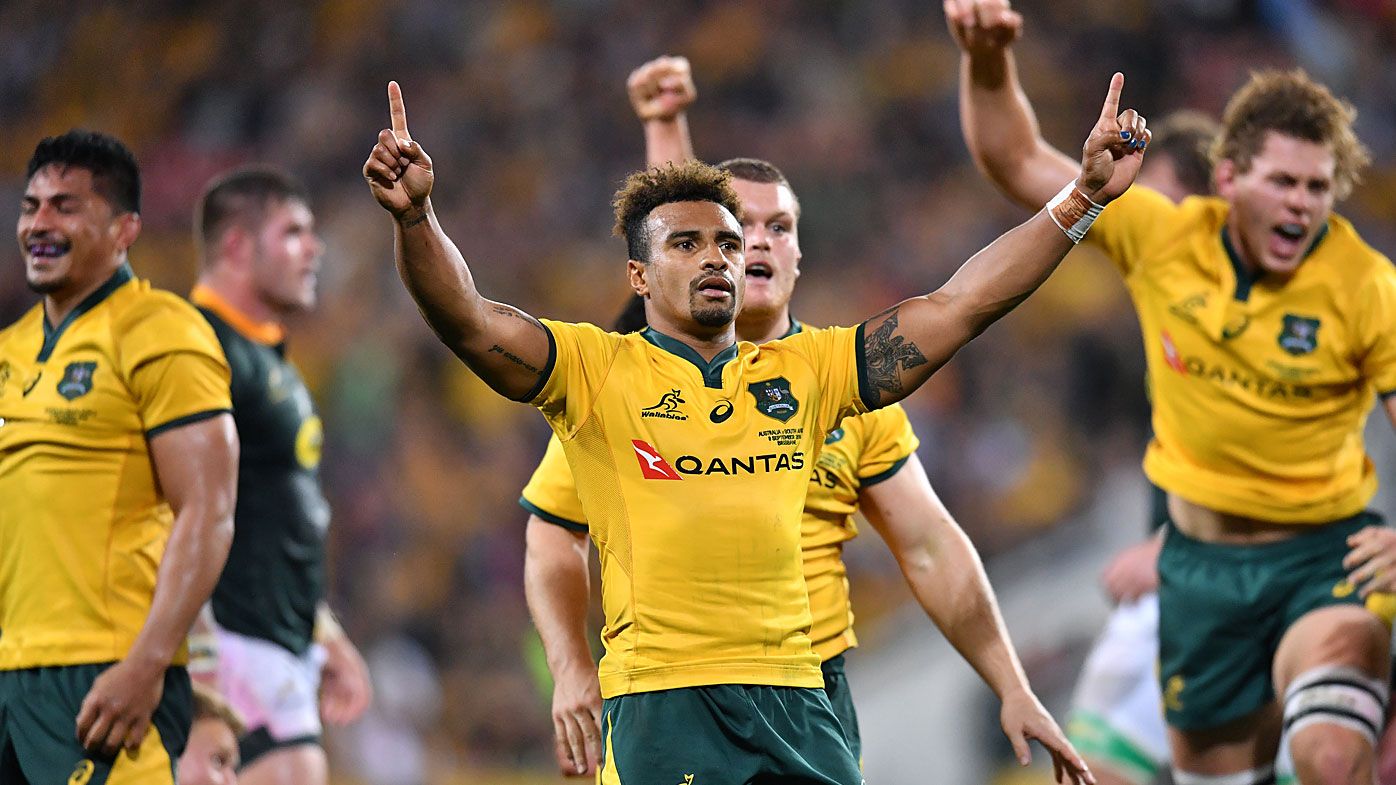 themselves rather than putting great pressure on the other team to force them into the same set of mistakes. I felt on the money when the hooker was shelved real early as I felt he was not going to be any sort of force. There's something wrong in Wallaby land in the fitness stakes as even the locks were blowing early and looking a bit pedestrian. The replacement was not too bad and the scrums were not a disaster. It seemed that the Springboks had the same issues and Marx was on way too early and I felt he went missing in this game. Now is it me, or are the halfbacks having issues seeing space? There seemed to be good options out wide a few times and they don't seem to trust themselves to go there, perhaps feeling vulnerable to counter-attack should it go wrong. This is where Beale is better at 12 as I reckon as he dances around the back and can look for that space. He's also hiding from tacking He He. There was nothing from both forward packs that said "wow" in any form. It was just a little boring. We had a newbie to Rugby with us in our little "Rugby Room" and he commented that he thought the Argies looked better than both of these teams. I did have to agree. Genia was his usual great self but seems to be a bit pissed off with the goings on around him. I will state here that there's something wrong in Camp Wallaby. He (Genia) probably nailed it when he said he thought (I am paraphrasing) that some of the team are just there for the photo shoot. And that's kinda how it appears. They were lucky on Saturday to have a Springboks team in front of them that was genuinely worse. And they barely got there.
Maddocks gets pulled, "what the hell?", I thought he looked like their best back. Haylett-Petty, Hodge, and Koribete were ordinary and they had a mirror image bit of mediocrity in the Boks backline. I know they are better than how they played. What is it? Now the 10-12 combination was not what we would call a great success. Beale was choked down in the 10 position, he needs space and time to be effective. He's not the sort of player that's going to direct things to get that space. Toomua is a quality player, but he doesn't seem to set up that confidence with his 13 or wingers. This might be the "seeing space" thing. I am at a loss as to Cheika's game plan. If it was pressure causing these teams to err, then you'd understand it, but it seems so self-inflicted. It's not like they've not been around together a lot. They've had two tests and endless camps together. One thing is certain for the next Wallabies fixture, they are going to need to be better to beat the Pumas if the Pumas front up again. Creevy might have put it well when he said they played well but perhaps the belief is still not there. After all, it was the All Blacks… What hoodoo eh Maddocks?? :-). I was a little aghast when Toomua was the man of the match. I thought there was no real standout. Just a thought. A question to ask – why the hell did South Africa gift Toomua that try? It was a dumb, dumb lineout. Cost them the game. Who would call that? A real coach killer. Jantjies is a failed experiment I think. Just doesn't cut it at this level. Am I too harsh?
All Blacks "B" blunders to a win over the Argentinians
OK, "B" is harsh… A- ???
The flattering scoreline aside, there were some standout performances from some of these fringe AB's. And that Argie #11 really impressed me with his Milner-Skudderish moves to score an epic try. We were all surprised when the Pumas scrum imploded early. It seems the All Blacks are starting to get more than a little bit of global scrum ascendancy – they're showing match after match that they won't be cowed. It seems that because we're not playing the Wallabies, there are no screams of cheating, bad referees and the like. That's quite refreshing. Both teams seem more respectful.
Mo'unga was quiet but not terrible. It's harder than it looks out there. Barrett has quite the apprenticeship. It was nice to see him talking to Ritchie throughout the game. Shanon Frizell had a great game and that was obvious. The Pumas tight five and back row were ever industrious but fell into the trap of playing too loose against the loose play champions of loose play. They needed to be able to switch it on and off. If they'd kept it tighter on occasion then they'd have done better I think. It was great to see them really mixing it up though. The offloads and industriousness of the entire team shone through. It's testament to the All Blacks depth, obviously, that they can make so many changes and then have two quick injuries and nothing really changed. Ben Smith, the incomparable. One more World Cup Ben, keep your head in one piece, please!!! TJ was great, can sniff a try. Triple T looked fine when he came on. I have to admit, he's a new one for me. Another "Where did he come from" Hansen bit of genius. Obi-Wan Kenobi is at it again. Anton LB was another revelation. He's the next Barrett, coming from super sub to peerless in the 12/12 channels.
That's my prediction. He's really that good I think. With Crotty and SBW being a tad old and injury prone, he's sure to see more minutes and perhaps more. Milner-Skudder still seems a bit pedestrian to me. Has lost a yard or two and needs more time on the park. It's tough as there's some real quality in the wings (pun intended.) ready to come back soon. How do you bench Ioane??
That's my quick diatribe. I think there's not much wringing of the hands this week. Cheika is feeling better but not secure I'd think. Ledesma will be happy with his team's progress and will be planning a Wallaby hi-jacking next weekend. The Wallabies are ripe for the picking.  Erasmus may rue some of his decision makings. Hansen and Co. will be looking to go for the Bok jugular!!
More soon after the next podcast (to give me ideas…) and the team namings.
Rob