Can anyone remember another Rugby Championship or Tri-Nations like it? The drama, the intrigue, the unanswered questions, the answered questions, the performance, the underperformance and the outpouring of emotions of equal polarity and strength at opposite ends of the spectrum, week in and week out.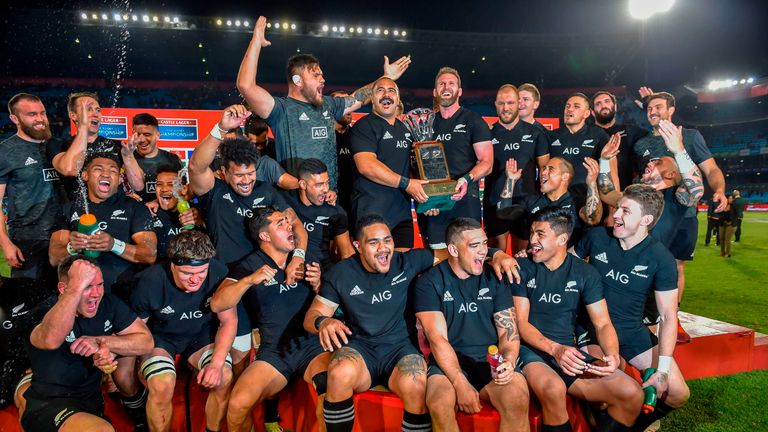 I remember arriving late to the Springboks-All Blacks contest when the All Blacks had lost their way and proceeded to clamber back to nearly jag it at the end. With an ill-conceived bit of match management, they tossed hope on the jacked spiked rocks of expectation. The next morning the Wallabies did the exact same thing against the Argentinian Pumas who were foaming at the mouth at the end like blown stallions having given it there all and refusing to capitulate even on jellified legs. The Wallabies then reverted to form and left their rugby heads in the Ostrich pen and shot the proverbial chance to finish them off well and truly in the head. One could never have guessed that less than two weeks later the exact same set of circumstances were going to arise but the Phoenix's were there to rise out of the ashes of their ignominy to place ticks in the "W" box and to either generate more angst and uncertainty where before there was hope and light (The ABs) or to further ensconce in the hearts of fans that the team is not rising like a well-cooked loaf of sourdough but is flattening off like a door slammed cake, never to rise again before the RWC hits us in 2019 (The Wallabies, unless that wasn't obvious).
One thing is for certain, you wouldn't want to have gone to bed, or awoken late with the last few weeks of entertainment going on. The Springbok-All Black games are what put bums on seats. They are epic and they can go any which way when the Springboks turn up to play. Hansen rightly points out that the Springboks could have rolled NZ easily in RWC 2015 when they only got up by two points. Australia too were punching well above their weight in that tournament after some ordinary results. Sure, Scotland was absolutely robbed, but the history books will mark the result no different despite the controversy.
Speaking of controversy, Rassie Erasmus is copping a Tsunami of shit over his decisions to take players off. I read that Faff was cramping and the prop was blown. Marx was there right up until the last eight minutes. I'm not sure I subscribe to the level of drama and acrimony being levelled at him. Sure, there were raised eyebrows, but the replacements were fresh and should have done the job.
So, the state of the Nations:-
Argentina – is still really a 50-60 minute team and sometimes less. They need to stick at it to really trouble the big guns. They are getting closer, they used to be a 40-minute team, at best! Mario can be happy, yet frustrated. He's got a fair way to go, but his time with the Wallabies is surely paying dividends. Sanchez is coming alive under this new regime.
Australia – One cannot fathom what's going on in Wallaby land. I've been saying this for a while, as has Ben, as has a lot of the media,
there's something not quite right inside the hallowed halls of RA. It's not all Cheika's fault.
South Africa – have they really
turned it around? One can only hope so. As a parochial AB supporter, I don't want them to win but I am in the camp that if they are strong, we have to be stronger and we relish their return to levels that will lift all of us around them.
New Zealand – I am firmly in my own camp here. I think that Hansens is a wily old dog and along with his henchmen, he is plotting the demise of his rivals by playing the wounded bird. You can hear the howls starting to gather momentum as the media hype ramps up about the AB's being in decline or "not at their best". (Can howls gather momentum? the mixed metaphors are troubling me today)
Last nights Rugby Ruckus really got in to the guts of what's going on in the Wallabies. Some excellent analysis by Morgan Turinui who looks at the plays through a lens only a top flight player can. Us as mere mortals and armchair waterpersons (lol) can only speculate and cogitate over what's going on, having never been in the cauldron of combat. Trust was a theme I took out of the Wallabies analysis. They are not trusting one another. The leaders are not leading, they are trying to do it all themselves. Trust. Interesting!
The All Blacks are taking 51 players on their tour. Smart, I am thinking, give a few more caps out and see if anyone what's to "stand up and shout". How seriously is Hansen taking the third Bledisloe? It sounds like a bunch of players will be heading directly to Europe. Hmm, food for thought.
The Wallabies are likely to have Kerevi and Kurindrani back for their tour. I wonder if that's a good thing? Still, couldn't be worse than what's gone on. Morgan's quite right about the overly complicated defensive setup. I hadn't looked that hard until he mentioned it. KISS principles needed. The Argentinian meltdown was not a good basis on which to judge the subsequent attack and defence in place, given the first half. I'm still confused.
the Springboks are going to see their overseas picking policy bite. It will be interesting to see how it affects them. Can they keep up the momentum?
Ledesma has done wonders for the Pumas, stretching out their credible and viable performance capability into the 50-60 minute range. They also feel the bite of some players going back to clubs. Will, they capitulate on the tour or maintain some of the impetus they have gained or will they kick on and start taking scalps?
Ah, the questions!